Products on stock: Precision and quality at a fair price.
At MICROS Optics, many products can be supplied ex stock or – if minor changes to dimensions are required – within a few days. If necessary, please indicate the listed item no., the drawing no. or the specifications and the quantity. We will be glad to send you our quotation immediately.
MICROS Optics Test Panels / References for Optical Element Inspection
MICROS Optics Test Panels are used for the visual comparison of surface imperfections on optical components such as scratches, digs, bubbles and inclusions, hairline cracks and prints. Surface imperfections can be evaluated by bare eye or a microscope.
MICROS Optics Test Panels are optically polished Borofloat glass plates on which the various dimensions of surface defects are applied photolithographically with chrome.
For this purpose, the standard specifications of DIN ISO 10110-7 and American standards such as MIL-PRF-13830B and ANSI/OEOSC OP1.002 and further standards are used.
MICROS Optics offers two different types of test panels:
The test panel according DIN ISO 10110-7 shows the preferred values of the number grades with which surface defects on optical components are compared.
The test panel for COMPARING SCRATCHES AND DIGS shows the preferred number grades for dimensions of surface defects used according to American standards. The numbers indicate the width in µm for scratches according to ANSI/OEOSC OP1.002 and the diameter in 1/100 mm for digs, where all of them accord to ANSI/OEOSC OP1.002 and the digs from 5 to 50 also accord to MIL-PRF-13830B. This test method should not be confused with the subjective comparison method with calibrated samples for scratches according to MIL-PRF-13830B. In our opinion the more accurate method to evaluate surface defects on optical components is the objective comparison method with defined scratches. This test method can be easily applied with the Micros Optics Test Panels.
Each standard has its own requirements for the sizes and density of scratches and digs.
Further specifications, such as restrictions on the length of scratches, the frequency of defects, edge chips, dependencies of the optics sizes, light sources and test setups can be found in the standard specifications.
To avoid misunderstandings manufacturers and users should always use the same test method.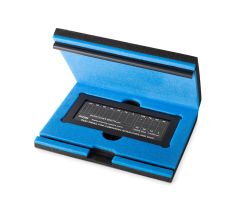 Scope of delivery of our test panels:

Borosilicate glass substrate with photolithographic chrome structure with protective frame made of plastic
Dimensions of test panel including frame = 134x66x4 mm
Field of view size: 113x45 mm
PE foam case with clamp lock
Test documentation
Prices for Test Panels for comparing Scratches and Digs · Item No. 10207 or Panels as per DIN ISO ·
Item No. 22383

1 piece

449 €/piece

2 pieces

394 €/piece

3 pieces

380 €/piece

5 pieces

349 €/piece

10 pieces

286 €/piece

more than 20 pieces

on request
Beamsplitter plates
Beamsplitter plates on stock
Substrate material

Borofloat in thickness of 1.1 mm

Dimensions in mm

115 x 115 / 50 x 50 / Ø50 / Ø25 / Ø12,5

Parallelism

Flatness

≤ 1λ per Ø25mm both sides

Surface defects

Coating

AOI = 45°
Front side – Beamsplitter coating
R / T = 30/70 %, 50/50% , 70/30%
VIS : R/T ±5% @ 550 nm , ±10%avg @ 420-680 nm
NIR : R/T ±5% @ 850 nm , ±10%avg @ 680-1020 nm
Rear side – AR Broadband coating
VIS : Ravg ≤ 1% @ 420-680 nm
NIR : Ravg ≤ 1% @ 680-1020 nm

Prices

Depending on quantity required
Neutral density filter – reflective with metallic coating
ND Filters on stock
Substrate material

N-BK7 / Synthetic fused silica

Dimensions in mm

50 x 50 x 2 / Ø25 x 2 / Ø12,5 x 2

Parallelism

Flatness

≤ 1λ per Ø25mm both sides

Surface defects

Coating

AOI = 0°

Optical density at
550nm ± 5 %

Transmission
in %

0,04 *

0,1

0,2

0,3

0,4

0,5

0,6

0,7

0,8

0,9

1,0

1,3

1,5

2,0

2,5

3,0

4,0

91,20 *

79,43

63,10

50,12

39,81

31,62

25,12

19,95

15,85

12,59

10,00

5,012

3,162

1,000

0,316

0,100

0,010

Please note

By combination of filters different densities can be achieved.
Set the coated side towards source of light
*Filter effect due to N-BK7 without coating

Prices

Depending on quantity required
Neutral density filter – absorbtion by filter glass
ND filters on stock
Substrate material

NG1 to NG11-Filterglass by SCHOTT
Colour: bright gray (NG11) to dark gray-black (NG1)

Dimensions in mm

Parallelism

Flatness

≤ 1λ per Ø25mm both sides

Surface defects

According to type of glass and filter thickness

Optical density at
550nm ± 5 %

Transmission
in %

0,1

0,2

0,3

0,4

0,5

0,6

0,7

0,8

0,9

1,0

1,5

2,0

2,5

3,0

4,0

5,0

79,43

63,10

50,12

39,81

31,62

25,12

19,95

15,85

12,59

10,00

3,160

1,000

0,316

0,100

0,010

0,001

Please note

Determination of density based on type of glass and filter thickness
Filters have a uniform transmission within approx. 400-700 nm

Prices

Depending on dimensions and quantity required